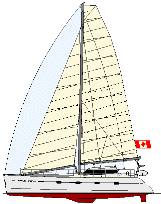 Osram VII
---
Flew down to Honolulu May 5, 2001 and set up some local voicemail next day. Posted notices at marinas and sailor hangouts looking to crew south or west coast bound. Got an offer one way to Palmyra on a old leaky wood keel boat the next day and also a contact for a catamaran going to San Fransisco.
Met Brian Caldwell who was to deliver the Gemini 32 catamaran to the west coast. He has considerable experience including the youngest to solo circumnavigate a few years back in a Contessa 26 and 8 or 9 back and forths between California and Hawaii. Brian was 26 and skipper, other crew was Ryan all of 19, both seem like solid guys. Took the ride and departed May 12.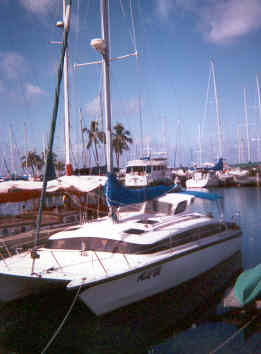 Alley Cat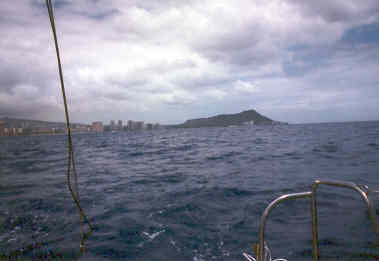 Aloha eh! Skipper picked the west side of the island to round expecting nicer conditions.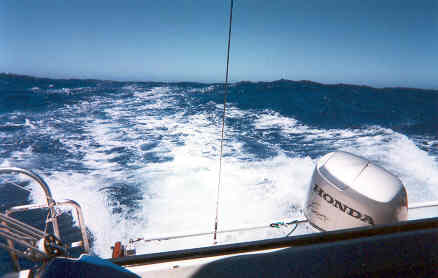 Nice conditions and romping along. The boat pounds a lot. It really pounds a lot. I am bunking up forward and sometimes wake up with a massive headache. Even my dreams are jumping around. Would not recommend the Gemini 32 for anything but coastal cruising. This boat was about 10 years old and most of the rigging had been replaced in Hawaii. We did manage to break the forestay toggle in mild conditions about 4 days out. Fun to replace at sea. One of the fuel tanks leaked into a aft berth about this time too. We also had major hatch leaks and a suspect main bulkhead holding the mast up. The bulkhead was cracked right through over each doorway in the hulls and it sort of just floated around. We did not push the boat until much later in the voyage. Despite what the manufacturer may claim, this is not a ocean going design!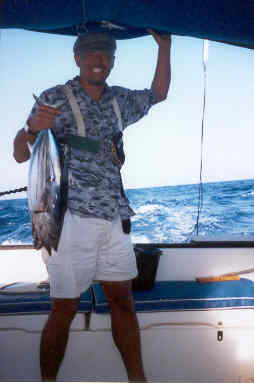 One of 4 delicious tuna caught along the way.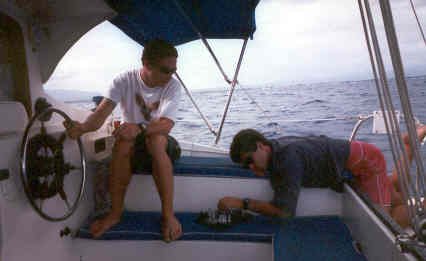 Brian and Ryan playing chess. I don't think Ryan ever won a game.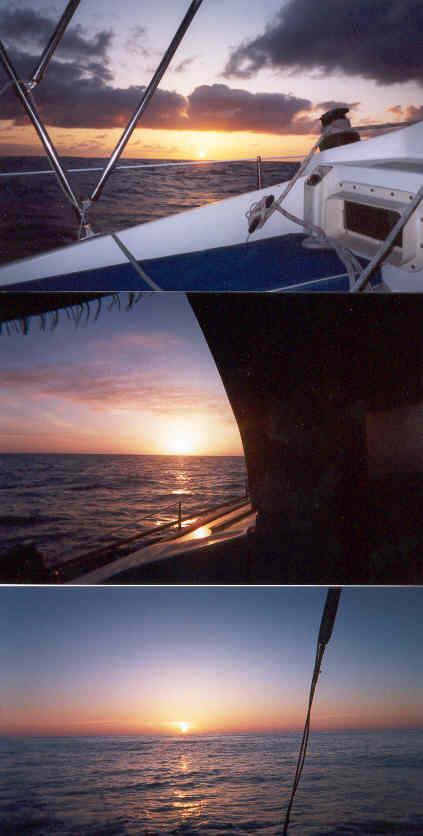 Sunsets and Sunrises, there were lots of them.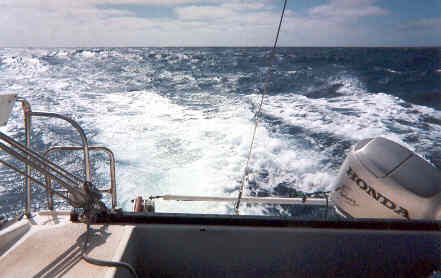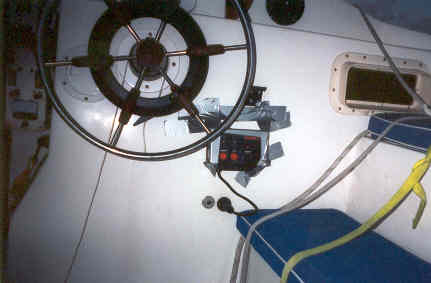 Autohelm duct taped to the bulkhead. Only had to change the drive belt once. Worked for us but apparently most are not so fortunate.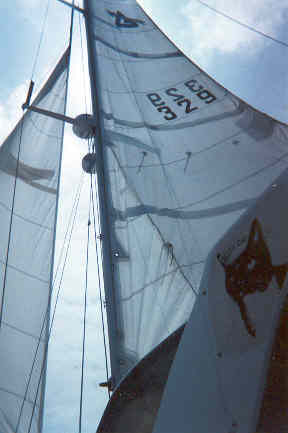 Even had the Alley Cat Logo.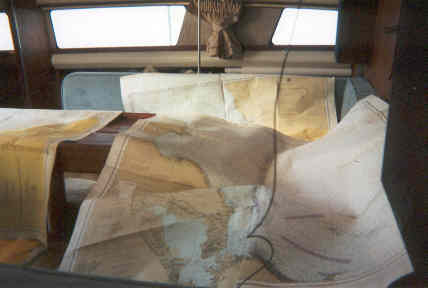 Charts got wet from all the leaks. Only one bilge pump worked so manually pumped the starboard hull regularly. Short list of what broke. SSB ground was corroded away. Motor starter circut did not work but a big screw driver ( ol sparky ) shorted to the starter did. Electric drives to the centerboards just powered up by them selves... no switch we could find so cut the wires to them before they caught on fire. One circuit in the breaker panel caused all the others to fail, had to disconnect it. About all that worked well was the RADAR and VHF.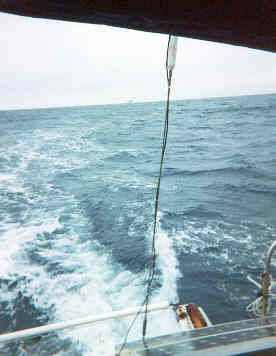 Start of my watch at 0600 12 days out. Can you see the ship? We called him up on the VHF and asked if he could see us. In a thick russian accent he said after a bit ' I can see you now.'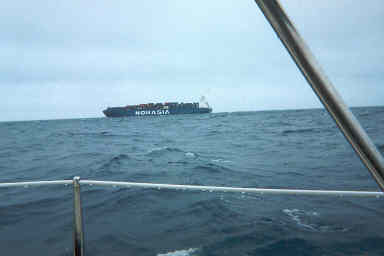 15 minutes later he passed on starboard bound for Oakland.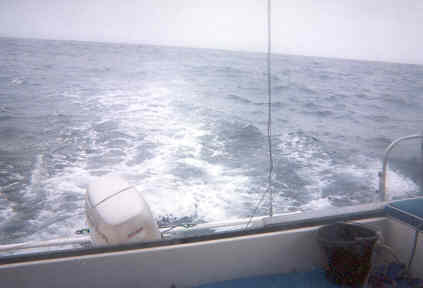 Got quite windy on the approach to San Francisco. We were doing 7kn under bare poles for a while. The wind picked up and off Point Rey we got pooped twice before we threw out the tire drogue. Also busted off one of our rudders that had been repaired in Hawaii. Got under the golden gate at 0300 21 days after leaving Hawaii.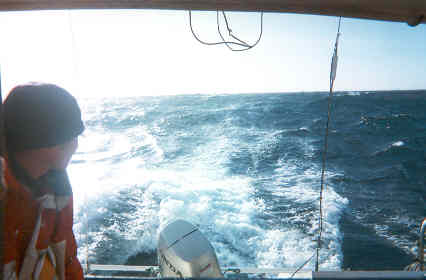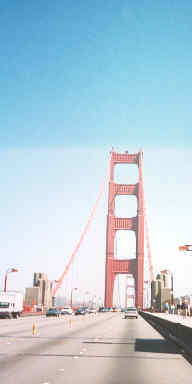 ---

Home page.
Copyright © 2001 Tony Bigras.