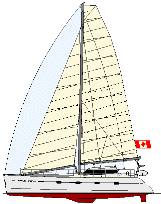 Osram VII
---
Osram VII is intended to be a rugged low cost cruising platform with excellent accomodation for a couple. She should have good performance with average days runs offshore of 125 to 150 nautical miles per day. There is an additional stateroom to accomodate guests. This is no bunked to the gills charter design, however she should be quite spacious with about 500 sq ft of living space below decks and about 1000 sq feet on deck. Her accomodations are much like would be found on a 35' cat with a bit more room between the furniture.
The flat bottom on the hull is fairly narrow and on my 23' cat I used a slightly wider bottom ( relativly ) with no problems from pounding. This shape combined with the short keels will provide good windward ability with shallow draft and without the problems of daggers or centreboards. The knuckle above the waterline provides for much more internal volume and for reduced spray. The spade rudders will have sacrificial bottoms and they are over engineered for their loads, so hopefully they will not be too much of a problem when in unplanned contact with the seabed. The rig includes a hanked on boomed jib. I know lots of mono cruisers cuss them because they eat up the foredeck but that should not be a problem for this cat. The Forward trampoline is 15'x18'. This is a big rig and must be easily handled and I will use lazy jacks to help. Large drifters and spinakers will be carried with socks on them.
The cost/construction/equiping trade offs have been as follows. Basically a high quality primary structure will be built in aluminium. Most of the structural compromises have been with weight and not with cost. The sails will probably be made by Leach&Mcbride a sailmaker I have dealt with in the past. They make efficient and durable sails for about 20% more than the budget far eastern shops. Spars will be 6061T6 tube as dictated by the design requirements. The spars will cost about 1/3 the price of 'yacht spars' with no practical weight or performance penalties. The forestay will be SS with high quality terminations and all other rigging will be galvanized with industrial terminations and high quality galvanized turnbuckles. This combination will provide a more durable rig at a fraction the cost of all SS wire and turnbuckles. While the primary platform uses the best quality, some of the eqipment and gear aboard may be less extensive than 'modern' crusiers have come to expect. Her anchors and winches have mostly been purchased used. All sails except the Main and Jib will be used. She will have a manual reel windlass with a 225' of chain and the balance 5/8" nylon. Modern electronic gear and modcons will be scarce. No watermaker just a deck rain capture system. A GPS, a depth sounder and a handheld VHF are it for the electronic boat gear. Primary navigation will be by DR and sextant. We will carry and use a lead line. A SW receiver will pickup weather and time ( and maybe we will listen to the ham net ). For safety gear the boat is designed to be righted at sea with her own gear That may or not work in practice and will not be tested before hand. No life raft will be carried. She will probably carry a parachute sea anchor.
I think of her equipment compliment as similar to cruising designs from the 60's or early 70's. She will even have ratlines and baggywrinkles on the shrouds :).
Copyright © 1997 Tony Bigras.