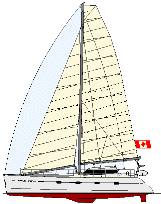 Osram VII
---
This was a little project for the millennium. A sailing cruise aboard the 50' catamaran Osram VII.
Construction started in April 97 and I had got in about 2400 man hours by xmas of 1999. Schedule for the launch was distrupted by divorce. The boat was sold in 2000 to a couple of nice Australian brothers. I have added additional construction material and some photos and info on the launch and the new owners. The design is a fairly conventional 50' catamaran with fractional sloop rig. Fabrication is in welded aluminium alloy. Dry weight is around 12,000 lbs with a design displacement of 17,000 lbs. Working sail area is 995 sqft. Estimated construction costs ready for sea were around Can$95,000.
The design plans are NOT available for sale.

The Voyage Route

Concept and Design

Construction Log and Photos

Budget

Actual Costs

Spy Photos of the 44' Prototype

Dingy Construction and Fun Photos
---

Boats page.
Copyright © 1996-2001 Tony Bigras.