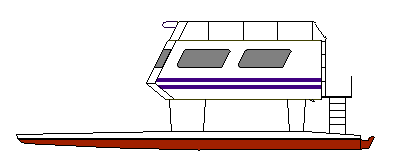 ---
She is intended to be a rugged low cost cruising platform with good accomodation for two. She is a un-conventional wave piercing powered catamaran design. Average days runs should be about 200 miles at 12 miles per gallon. Total range at 8 kn should be about 3000 nautical miles. Coastal range at 350 miles per day should be about 1200 miles. Hull construction is marine plywood and W.E.S.T. epoxy with stitch and glue construction. The connecting struts were originally to be aluminium but I changed my mind... and spent an extra 100 hours building them in marine ply epoxy glass. There is tankage in the forward struts. The cabin is marine plywood with honeycomb core.
Accomodation will be your basic 200 sq ft cabin with full headroom throughout. As well a there will be a small cockpit at the main deck level plus 200 sq ft sundeck above the main cabin. Design styling is not a significant consideration devolving to your basic RV boxiness and uglyness. The design is optimized for rapid construction.
Propulsion is from twin homebrew jet drives connected by toothed belts to a single Yanmar 4TNE84T turbo charged industrial diesel rated 50HP continious at 3000 rpm. Cruise will be about 2000 rpm at 10 kn.
Structural design and considerations.

---
Copyright © 2001, 2002, 2003 Tony Bigras.