---
Osram VIII was built using some components from the wave piercer design. Two new full displacement hulls were built as well as new rudders and these were integrated with the existing cabin from the wave piercer. The Yanmar diesel from the wave piercer was moved into the starboard hull and a new propulsion system was enginered using dual hydraulic systems with two conventional shafts driven from hydraulic motors providing conventional forward neutral and reverse. The design is now about 8000lb weight with a 14,000 lb displacement with full tanks. Currently she can carry 1200 litres of diesel in the starboard tank plus about 80 in the day tank. The port tank is currently 1200 litres water but could be converted to diesel with the addition of a small water tank and a water maker. Economy is approximately 6 nautical miles per U.S. gallon at 7Kt so range from these tanks would be about 3750 nautical miles. As well during this process some equipment upgrading was done including a Newport diesel fireplace and some marble tile in the head area where the engine used to be.
Here is the design: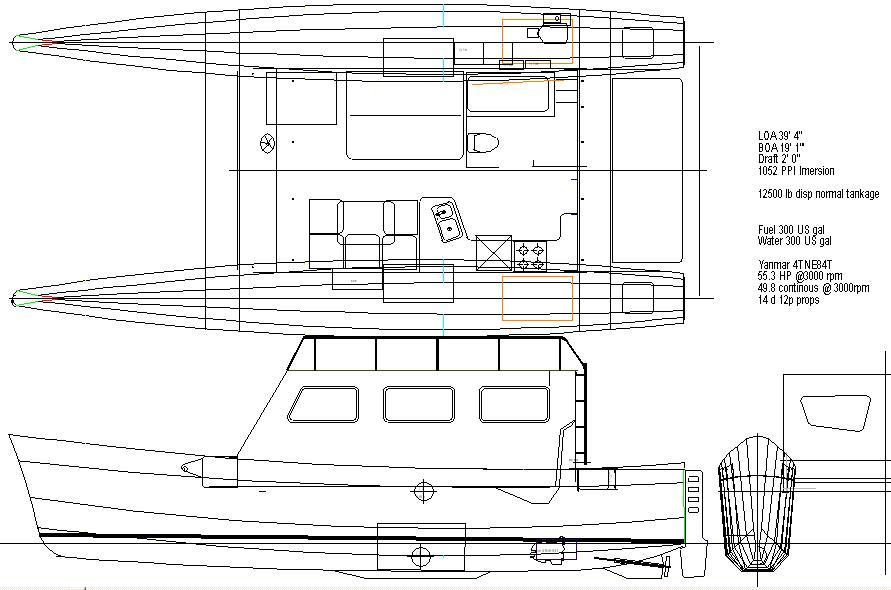 We took her on a 3 month cruise up the BC coast and to the Charlottes. It was a pretty sweet trip.

Osram VIII's cruise from Nanaimo to the Queen Charlotte Islands and return, summer 2007.
Here is some information on the construction.

Osram VIII
---

Home page.
Copyright © 2001 - 2010 Tony Bigras.