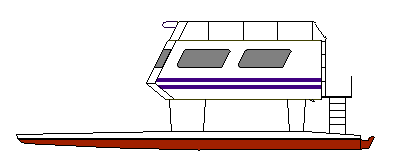 ---
Construction started May 2002.
Design goals:
Wave piercing for comfortable motion.
Single Yanmar industrial diesel with get home sail.
Cabin area 220 sq ft.
Shipable worldwide in a standard 40' container.
Range 3000 miles at 8kn 12 MPG.
13" draft with twin high volume jet drives.
Less than 500 man hours to construct.
Cost less than US$35,000.

Concept and Design

Development and sea trials of 37% model.

Construction Log.

Budget

Problems and redesign work
---

Home page.
Copyright © 2001, 2002 Tony Bigras.